Best 210T Reflective Material Blocks 99% UV Rays and Keeps Your Vehicle Cool
Blocks excessive hot sun & heat: Extreme heat from UV rays over a period of time, can cause harm to your vehicles interior, leather seats, dashboard and electronics. These sunshades are uniquely designed to keep your cars interior cool and comfy, preventing fading and cracking of your dashboard.
Inventive 2-piece design: Two identical, rectangular shades measures 32.5x36 inch or 82.5x91.5cm. They fully acclimate to the windshield of your vehicle. Install vertically or horizontally to create a perfect fit. LARGE FIT - fits most Big-Size SUVs, Trucks Sedans and Tesla
Superior-quality, great look: Our two-piece windshield sunshades have advanced quality and are made from a UV, high density reflective material, reinforced, strong, pliant wire using high heat reduction technology to block 99% of damaging UV rays and heat.
Easy installation and removal: Both sunshades slide easily in place right above your dashboard. When you're not using sunshades, store easily inside the included travel bag. It's so easy to install and remove the shades due to their innovative 2-piece design in leu of the large, traditional 1-piece design. Storage is simple; layer the shades over one another to fold away easily.
Free! Microfiber cleaning cloth: As our bonus, along with your purchase of any sunshade, you will receive a free, (red) microfiber cleaning cloth. Perfect for cleaning under wet or dry conditions, it also cleans dust from your car or truck's dash and can be used to effectively clean the windshield.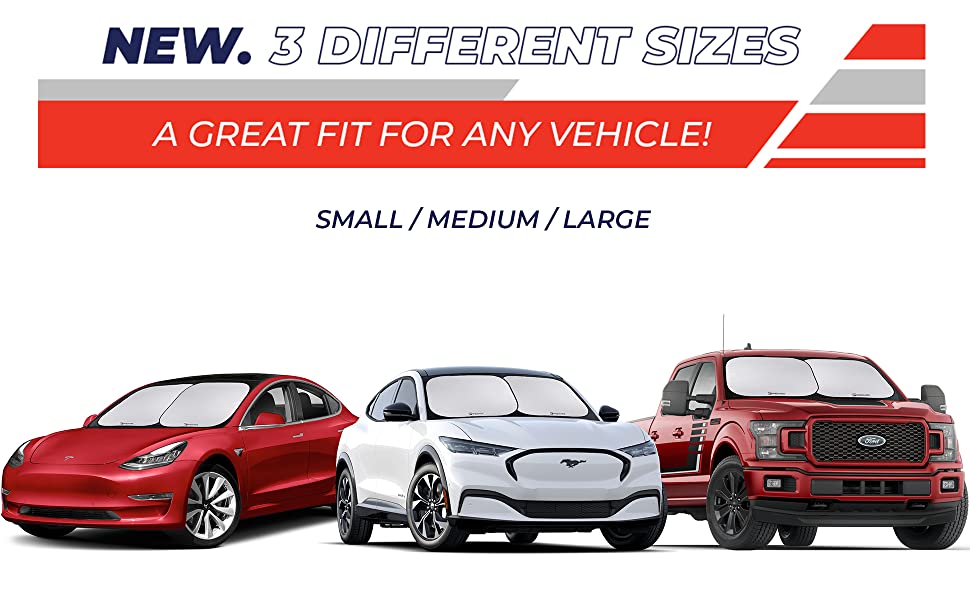 How Do I Know My Shades Will Fit My Vehicle?
• Small (sports) - Each unit (2) measures 23.5 x 29 inches. Fits most compact or sports cars with smaller windshields.
• Standard (medium) - Each unit (2) measures 28 x 31 inches. Fits most standard cars, sedans, mid-size SUVs, trucks with standard-sized windshields.
• Large (large) - Each unit (2) measures 32.5 x 36 inches. Fits most large or full-size cars, SUVs, trucks or vans with standard windshields.